An Official Crooked Road Event
SPONSORED BY THE ELK CREEK VOLUNTEER FIRE DEPARTMENT & LADIES AUXILIARY
---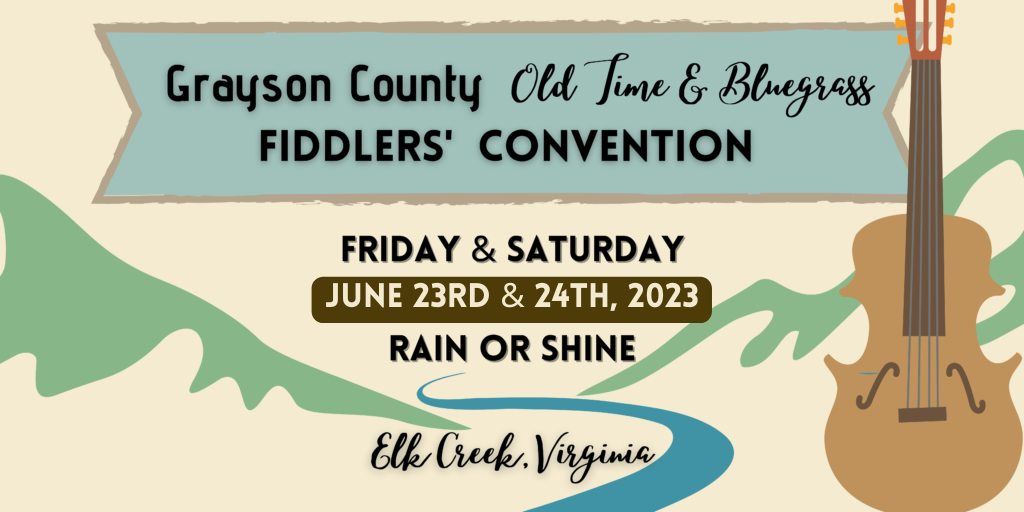 ALWAYS THE LAST FULL WEEKEND IN JUNE
$3500 CASH PRIZES, RIBBONS & $1500 YOUTH AWARDS
Friday 5PM & Saturday 3PM
LOCATION: ELK CREEK SCHOOL BALL PARK, 57 School Lane, Elk Creek, Virginia 24326
ADMISSION: FRIDAY $8, SATURDAY $10, TWO DAY TICKET $15, UNDER AGE 12 FREE
CAMPING: OPENS TUESDAY JUNE 21ST $5 PER NIGHT, SHOWERS AVAILABLE
SPONSORSHIP OPPORTUNITIES, VOLUNTEERS OR VENDORS INFO: CONTACT 276-768-6721
The Grayson County Fiddlers's Conventions has been preserving and celebrating mountain music and the culture of Southwest Virginia since 1967. Its mission is not only to preserve the artistic heritage of Grayson County but also the people and property of the Elk Creek community.
The Elk Creek Volunteer Fire Department and Ladies Auxiliary are the proud sponsors of the and depends on funds generated to purchase equipment and provide emergency services.
Come the the VALLEY, you'll find a small town feel, plenty of friendly faces and amazing mountain and valley views. Well seasoned musicians, kids, first responders, and travelers find themselves at home during our two day convention.

GENERAL CONTESTANT INFORMATION
Contestant will be charged admission at the gate. After performing, admission will be refunded at the registration table behind the stage. Ticket must be presented before a refund will be made.
CONTESTANTS WILL BE CHARGED ADMISSION AT THE GATE
REGISTRATION UNTIL THE CATEGORY BEGINS
ADMISSION REFUND FOR ALL INDIVIDUAL PERFORMERS EXCEPT DANCE & FOLKSONG
ROSETTES FOR ALL WINNERS
CONTESTANTS MAY ENTER ONE INDIVIDUAL COMPETITION & PLAY IN ONE BAND
BANDS MUST PLAY BOTH NIGHTS
COMPETITION JUDGED SEPARATELY FRIDAY & SATURDAY
YOUTH AWARDS BEFORE BAND COMPETITION ON SATURDAY NIGHT
ALL AWARDS MADE SATURDAY NIGHT
FRIDAY COMPETITION
FOLK SONG (1st 20 to register, judging combined with Saturday's performance)
DULCIMER
AUTOHARP
OLD TIME BANJO
BLUEGRASS FIDDLE
OLD TIME & BLUEGRASS BANDS
OPEN FLAT FOOT DANCE (no refunds, Rozettes awarded on Saturday night)
SATURDAY COMPETITION
FOLK SONG (1st 20 to register, judging combined with Saturday's performance
DOBRO
BASS FIDDLE
MANDOLIN
BLUEGRASS BANJO
OLD TIME FIDDLE
YOUTH INSTRUMENT
YOUTH BAND & DANCE
GUITAR
BLUEGRASS & OLD TIMES BANDS
OPEN FLAT FOOT DANCE (no refunds, Rozettes & Awards at conclusion)
YOUTH INDIVIDUAL
FIDDLE, GUITAR, BANJO, MISCELLANEOUS, DANCE
1ST PLACE … $25
2ND PLACE … $20
3RD PLACE … $15
YOUTH SCHOLARSHIPS – 4 PARTICIPANTS WILL BE AWARDED $250 EACH IN SCHOLARSHIP FUNDS, DETAILS AT REGISTRATION
YOUTH BAND COMPETITION
1ST PLACE … $200
2ND PLACE … $100
3RD PLACE … $50
OLD TIME BANDS
1ST PLACE … $600
2ND PLACE … $300
3RD PLACE … $200
4TH PLACE … $100
5TH PLACE … $75
BLUEGRASS BANDS
1ST PLACE … $600
2ND PLACE … $300
3RD PLACE … $200
4TH PLACE … $100
5TH PLACE … $75
ALL INDIVIDUAL INSTRUMENT CATEGORIES AWARDED:
GUITAR, DULCIMER, AUTOHARP, OLD TIME BANJO, BLUEGRASS BANJO, DOBRO, BASS FIDDLE, MANDOLIN, OLD TIME FIDDLE, BLUEGRASS FIDDLE, FOLK SONG
1ST PLACE … $30
2ND PLACE … $25
3RD PLACE … $20
4TH & 5TH PLACE … ROSETTE
ADULT FLAT FOOT DANCE (no refunds)
1ST PLACE … $20
2ND PLACE … $15
3RD PLACE … $10
4TH & 5TH PLACE … ROSETTE